---
---
---
---
---
Over the summer, Members Credit Union (MCU) was thrilled to have interns Taylor Simmons and Ella Brown working alongside our team at the Main office in Winston-Salem. Both interns attend college; Taylor attends A&T State University, majoring in Bio-engineering, and Ella attends Gardner-Webb University, majoring in English. While their majors may not directly relate to finance, they still gained some valuable knowledge from the employees at MCU.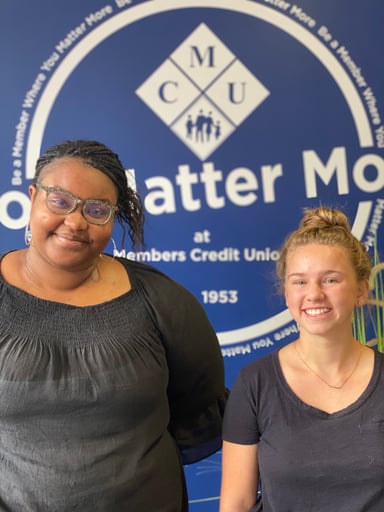 Throughout their time at MCU, they shadowed multiple departments and branches. "Each department showed us the value of customer service. We learned how to create a professional environment unique to each member's needs", said Ella. Both interns spoke with MCU staff and observed the credit union's day-to-day operations. They were allowed to use the skills they learned by working together to schedule events, create marketing campaigns, and even reach out to the local community through volunteer work. "Being able to work alongside MCU staff and head up our own projects showed us that credit unions truly do put their members at the heart and core of their organization and work, making their members' lives easier when it comes to financial obligations," noted Taylor.
Taylor Simmons and Ella Brown
Both interns learned valuable skills that can help benefit their financial gain. Notably, our interns were taught about credit and loans while shadowing in the lending department. While this can be an intimidating topic for most young adults, our interns were given a different perspective of how loans can be beneficial rather than daunting. Taylor and Ella mentioned, "We've always thought of credit as a trap, often leading to a deep hole of low credit scores and financial ruin. While speaking with the loan officers here at MCU, we were informed on how taking on loans and managing them well can lead to lots of benefits." Armed with new tools for financial success, they both feel confident and competent in taking the next significant steps of financial adulthood.
Both interns had an enriching summer learning about the credit union industry and made meaningful memories and connections that they will always cherish. "While these lessons are truly valued, we have to say that the most important takeaway would be that a good workplace and a good business stems from good people with even greater hearts, and MCU is just that!" says Ella.
Members Credit Union would like to thank Taylor and Ella for all the hard work, time, and effort they contributed during their summer internship. MCU wishes them both well in their college achievements and future endeavors.