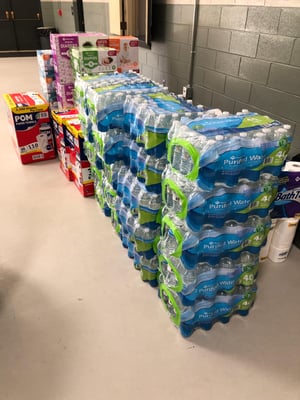 The great Winston Churchill once said, "We make a living by what we get, but we make a life by what we give." Members Credit Union employees and their members understand Churchill's philosophy regarding giving. As the rains fell and the water rose past the flood stage in Kentucky this past July, relief efforts began forming across the U.S.
The Captain Mark Garner VFW Post 7794 of Elkin, with the assistance of the NC Army National Guard, is among those who have stepped up to organize relief support. Once Members Credit Union learned of the VFW's efforts, Community Outreach Specialist Jon Hamby reached out to each MCU branch across NC to see how much each branch would like to donate from their designated community funds.
Each MCU branch organizes fundraisers throughout the year, which funds their local designated charitable community funds. Additionally, in exchange for a small $4.00 donation, employees are allowed to wear jeans to work and "dress down" on Fridays.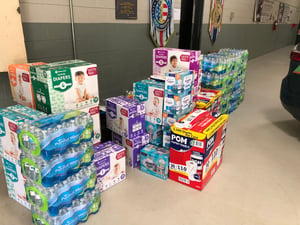 Collectively, through those designated community funds, MCU was able to donate over $2,200 in supplies, diapers, water and varied amounts of VISA gift cards. Jon Hamby and MCU's Member Experience Coordinator, Tina White, loaded the MCU van and delivered these items to the NC Army National Guard office in Elkin, NC. The National Guard will be delivering these items to Kentucky next week.