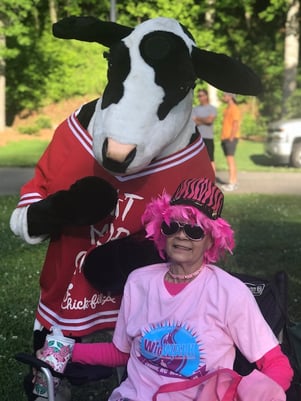 Lenoir, NC May 12, 2018 – Members Credit Union (MCU) held its 7th Annual Wig Walk on Saturday, May 12th at the T.H. Broyhill Walking Park in Lenoir. Over 50 people walked in this year's event that raised $4,667. 100% of the proceeds from the charity walk will be donated to the Wig Bank of Caldwell County to assist cancer patients.
"We are grateful for everything Members Credit Union does for the Wig Bank and the clients we serve," explained Amy Adams, Wig Bank of Caldwell County's Chairperson. "The Wig Walk has given us the funds needed to provide wigs, gas and food cards and much more." The Wig Bank of Caldwell County is a cancer service center that provides wigs, makeup kits, funds for gas and food, exercise classes, support groups and information about cancer at no cost to the community or people they help. The programs are coordinated and supported 100% by volunteers and funded by events like the Wig Walk.
"Without events like the Wig Walk, we could not provide free services to support our clients," remarked Julie Justice, a board member of the Wig Bank. "The Wig Walk is a great way to come out to support a great cause and have a lot of fun."
Fundraising for the Wig Walk began in early 2018 and lasted through the day of the event with donations collected from MCU members, walk registrations, and corporate sponsorships. This year's corporate sponsors included the McCreary Cancer Center, Kimbrell's Furniture of Lenoir, Teff Hair Design Studio, Chick-fil-a at Smith Crossroads, Brushy Mountain Builders, News-Topic, Barlowe and Associates, Foothills Framing, Southern Roots Salon, and Western Carolina Electric. During the walk, participants received a 2018 Wig Walk T-shirt and were encouraged to wear a costume wig for a wig contest held after the walk. Eight contestants participated in the contest, and the winner was Shirley Haidelmark from Lenoir. Her prize was a $50 gift card from MCU.
The Wig Walk for the Wig Bank of Caldwell County is one of many charity events sponsored by MCU. To date, MCU's Wig Walk event has raised nearly $42,000 for the Wig Bank of Caldwell County.
###
About the Wig Bank of Caldwell County
The Wig Bank of Caldwell County was formed after founders David Icard, a salon owner, and Alicia Stanislaw, a registered nurse, discussed the lack of support for cancer patients who were facing the loss of hair, the change of skin texture, and other physical and emotional effects of treatments. With a bag of donated wigs and a desire to offer advice and assistance, Icard and Stanislaw secured a space, enlisted volunteer help, and through mostly word-of-mouth advertisement, opened The Wig Bank of Caldwell County. The Wig Bank's inviting home allows cancer patients to receive services in a non-clinical atmosphere. www.wigbank.org
[gallery ids="4446,4444,4443,4442,4441,4440,4439,4438,4437,4436,4435,4434,4433,4432,4431,4430,4429,4428,4427,4426,4424"]