MCU Supports Local High School Basketball Team by Sponsoring Half Time Challenge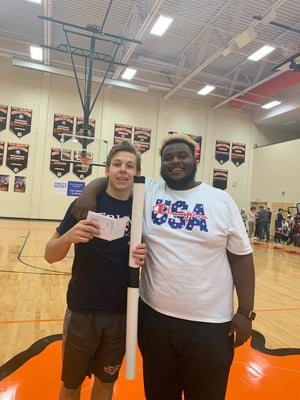 Members Credit Union in partnership with their student-run credit union, War Eagle Credit Union, Sponsors a half time challenge called Dizzy Layup during the 2019-2020 men's Davie High School basketball games in Mocksville, NC. During Dizzy Layup, two War Eagle fans volunteer to compete in a half-court challenge where each participant must spin around ten times and score a layup. The participant who scores the most baskets in under 30 seconds wins a $50 Visa gift card, courtesy of Members Credit Union! Over the course of the basketball season, Members CU awarded $900 in gift cards to 18 Dizzy Layup champions.
Pictured here: winner (left) Beaven Arey and participant (right) Ben Norman. Both are students at Davie High School.