Near the end of August 2021, Members Cred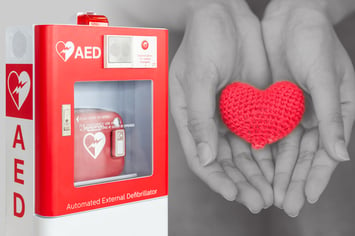 it Union (MCU) enhanced the safety of employees and members by installing Automated External Defibrillators (AEDs) in each branch location. AEDs are located in a "Save Station" at every branch and are available for use in case of a medical emergency that can occur.
Around 350,000 cases of cardiac arrest can happen each year, and without proper equipment and trained professionals nearby, some of those cases can lead to death. Through training, MCU can guarantee that every employee can effectively operate the AED, which is used as another way to re-establish the heart's rhythm. On August 18th, all employees took a training class to further understand AED devices and how they work. The contents within the machine contain two adhesive patches that attach to the victim. The pads will start by reading the electrical response of the victim and then will advise the user to administer a shock to restart the heartbeat if necessary; thus, the AED machine prevents the user from harming the patient. The AED machine operates by communicating to the person handling it by speaking in a monotone voice to keep them calm in the event of an emergency and acts as a guide through each step. This gives the user of the AED peace of mind knowing that they cannot make things worse but can continue focusing on saving the victim's life. Cardiac arrests can happen at any time, anywhere. Most deaths from cardiac arrest usually occur when the patient is outside of hospitals. Every minute without first aid, a victim's survival rate can go down by 10%, hence the importance of having an AED and trained staff at each branch location.
Although calling 911 and performing CPR are indeed helpful, the most effective treatment is using the life-saving defibrillation device. It is important for MCU to have accessibility to AED machines in each branch so that MCU can lower the risk potential of a loved one losing their life from an unexpected cardiac arrest episode. In addition to the AED installation, MCU will be offering further CPR training to any employee that wishes to gain their certification.