The 2019 spring Semester War Eagle Credit Union (WECU) Scholarship Winners are Benjaman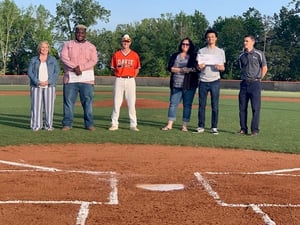 Norman and Christian Taylor. The announcement was made at Davie High School by Members Credit Union (MCU) on Friday, May 10th during a Davie High School Varsity Baseball game against Grimsley High School. Alex Newman, MCU Loan Officer, and WECU Branch Manager presented a $1,000 Scholarship to Norman and Taylor who are Juniors.

Students at Davie who open an account at WECU and keep it open are eligible to win one of the two $1000 scholarships given away in a drawing each semester by WECU.
About WECU:
In 2018, Members Credit Union founded the War Eagle Credit Union (WECU) at Davie County High School, located in the school's cafeteria common area. WECU is a student-run credit union branch powered by MCU that serves students, teachers, and faculty.