Five Ways You Can Make Your MCU Loan Payment from Home
Members Credit Union's loan offerings are an essential part of your member benefits. The loan payment services we provide so that you can easily make your MCU loan payments are a big part of what makes up your borrowing experience. We offer several ways to make your monthly loan payment from home, and many of them are free.
1. Make a Payment by Phone with a Debit or Credit Card from Another Financial Institution
Members who don't have a checking account with MCU and who want to use funds from an outside bank or credit union can call our member services number (800-951-8000) to make their payment over the phone by providing their external account information. If you pay by credit card, we accept Visa, Mastercard and Discover. This service is only available during regular business hours and costs $7 to make the payment. The price pays for the cost of processing your card payment. As this is the most expensive and time-consuming method, you may want to learn about the other payment methods that charge lower or no fees. Keep reading to find out about these loan payment services.
2. Make a Payment Online with a Debit or Credit Card from Another Financial Institution
Using Online Loan Pay is a great way to save money if you want to pay your loan with an external bank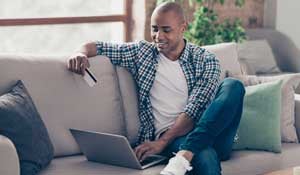 account. The fee to make a payment in Online Loan Pay is $4. We accept Visa, Mastercard and Discover. This service is secure, and it is available 24/7 from the memcu.com home page. To make your payment using this service, you will need to register with an email address, and you must know your membership number and loan suffix number. If you set up scheduled recurring payments, we waive the fee.
3. Make Your Payment When you Get Paid with Payroll Deduction
Payroll deduction is another free and convenient way to make your monthly payment. If you work for a sponsor company, you can fill out a payroll deduction form to set up your loan payment to transfer directly from your paycheck.
4. Transfer Funds from Another MCU Account in MEMCU Online and Mobile
Members who have a loan and an MCU Checking Account or Savings Account can transfer funds from their account to make their loan payment. Transferring funds in MEMCU Online or Mobile is another free service that is available to you 24/7. You can use the loan payment form located in MEMCU Online and Mobile to make a regular monthly payment or set up recurring payments at no extra cost to you. And having an MCU Checking Account adds more benefits to your membership, such as a free Visa Debit Card and free online bill pay.
5. Call MCU to Have Funds Transferred from Another MCU Account
If you have a Checking Account or Savings Account with MCU and prefer to call in to do business, our Member Services Staff is available to help you Monday to Friday, 8 AM to 5 PM. You can request that funds be transferred from your account to your loan to make a payment. There is no added cost to make your payment this way, but you must call during regular business hours and wait until a Member Service Rep is available to help.
As you can see, MCU offers many ways to make your loan payment without needing to travel to a branch. However, if you prefer making your payment in person, we are here for you! Our lobbies are open, and we're taking precautions to keep our staff and members healthy. If you prefer to make a payment by mail, that's OK too! With so many options, you can make the most of your credit union benefits and do business in whatever way is meaningful to YOU!