Members Credit Union is proud to introduce the MEMCU CardNav
mobile app, allowing members to have greater control over their
debit and credit
cards.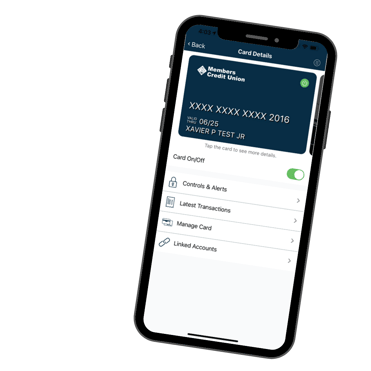 MEMCU CardNav adds another level of security to our member's cards by providing instant updates to help manage budgets and identify potential fraud. Along with alerts, this app allows our members to turn their cards on and off to avoid additional unauthorized charges. MCUs CEO/President Bob Donley, states "Our CardNav product provides our members with "at the moment" peace of mind with the capability to pause/freeze their card as they need!"
MEMCU CardNav controls and alerts are fully customizable. GPS location settings control where members cards can and cannot be used. Members can also limit spending to reach budget goals and restrict purchases made. Controls and Alerts that members can set/receive; are all customizable – you can pick and choose which features to change.
Locations: Use GPS to restrict transactions to your location or set geographic restrictions for where your card can and cannot be used.
Spending Limits: Set a dollar amount or thresholds for available balance to stop transactions that reach the exceeded amount. Turn on Account Low Balance alerts for when your balance dips below that specific threshold number.
Transaction Type – Turn this feature on to deny any of the transactions from processing or to receive alerts when these types of transactions occur: In-store (card present), online (including bill pay), mail/phone order, recurring transactions, ATM transactions (except balance inquires).
Merchant Type – Any of the following types may be turned on to deny transactions of that type, and alerts may also be turned on to initiate an alert when a transaction occurs: department stores, entertainment, gas stations, groceries, household, personal care, restaurants, travel, age restrictions, and other.
On/Off – Only allow transactions when you turn this feature on for your card. Turn your card on or off or for a short duration of time, with a single touch.
Download MEMCU CardNav today to gain complete control over cards while reaching your financial goals and protecting accounts against potential fraud. Available on the App Store and Google Play.