KEYONNA SMALL NAMED MCU'S MANAGER OF TRAINING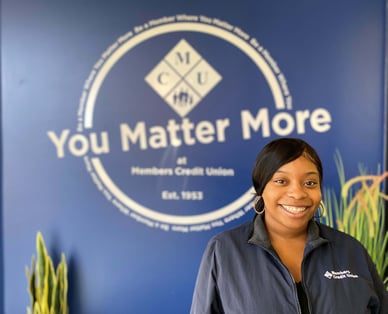 Members Credit Union (MCU) proudly announces that Keyonna Small has been promoted to Manager of Training. In Keyonna's new role, she will focus primarily on the training and development for new hire employees and will seek appropriate training, leadership, and development opportunities for all MCU employees. "We are proud to promote Keyonna to Training Manager at MCU. Her background, experience, and attitude make her the perfect MCU team member to manage our Training Program," said Tanya Council, Member Experience Director. "Having a dedicated trainer will improve the staff with proper knowledge required for each role, as well as improving overall performance to ensure employees are comfortable and secure in their positions to serve our membership effectively."
Small started her MCU career in 2019 as a Member Service Representative at the Winston Salem branch location. In 2021 she was promoted to Digital Engagement Coordinator. "My time at MCU has been nothing short of amazing. Being in both departments has structured my way of thinking to want to help solve the minor issues that could become bigger issues and understand what our members expect from us. I am ready to bring creativity, a positive attitude, and a willingness to learn to my new position. I am excited and beyond thankful to get to have a positive impact on everyone I work with as I believe, ultimately, this is the perfect way to give our members what they deserve," states Keyonna. Small attends Winston Salem University and will soon complete her Bachelor's in Business Management. She enjoys spending her time with family, reading, and cooking.