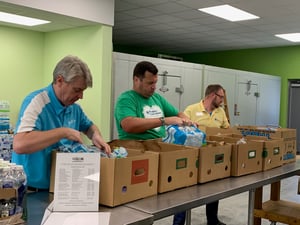 Winston-Salem is one of the top cities in the nation for families with children who experience food insecurity and hunger. H.O.P.E (Help Our People Eat) of Winston-Salem is a charitable organization that organizes the community to volunteer preparing nutritious weekend meals for thousands of children in Forsyth County.
As part of Winston-Salem's socially responsible business community, Members CU Employees volunteer with H.O.P.E on a monthly basis to help them prepare meals to be delivered to families in need for the weekend.
To date, H.O.P.E has delivered 253,081 Meals to hungry children and 430,621 Pounds of produce to their families.
If you would like to volunteer, donate money or supplies to H.O.P.E, please visit their website hopews.org to find out how you can help!
Pictured Left to Right: Eric Stiff, SVP of Member Experience; Tim Mullen, VP of Lending and Operation; and Jon Hamby, Community Relations Coordinator pack boxes with nutritious food and prepare meals to be ready for delivery to families in Forsyth County.