When you need to make a one-time or recurring transfer between your personal MCU accounts, you can use the Funds Transfer feature in MEMCU Online or MEMCU Mobile. These transactions go through automatically, so your money is always where you need it to be. You must be enrolled in MEMCU Online or Mobile to get access to this feature. For more information about these services and how to enroll click here.
NOTE: Recurring and future-dated transfers that you schedule in MEMCU Online and Mobile will process at 3 AM EST on the date you authorize the transfer to take place. Payroll deposits are processed between 8 AM and 10 AM on the day you are paid. Please keep this in mind when scheduling transfers in online and mobile banking.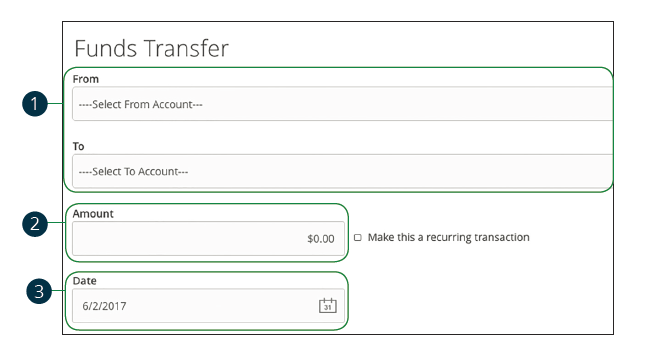 In the Move Money tab, click Funds Transfer.
Select the accounts to transfer funds between using the "To" and "From" drop-downs.
Enter the amount to transfer.
(One -Time Transfer Only) Enter the date to Process the transaction.
If you would like to set up a recurring transfer, follow the steps below.
a. Check the box next to "Make this a recurring transaction" to repeat the transfer.
b. Use the "How often should this transfer repeat?" drop-down and select "Every other week."
c. Enter a start date and end date for the transaction using the calendar feature. If you select a date that begins on a Tuesday, then your transfer will occur every other Tuesday.
d. If your transaction doesn't have an end date, check the box next to "Repeat Forever"
Enter a memo is optional.
Click the Transfer Funds button when you are finished.
If you need assistance with enrolling into Online or Mobile Banking, please call us at 800-951-8000.