Helen Dyer once said, "Volunteerism is the voice of the people put into action. Actions shape and mold the present into a future of which we can all be proud."
Volunteer work has always been a core value of Members Credit Union and its employees. Along with the 16 hours of paid volunteer time for employees each year, MCU also organizes volunteer events throughout the year to get their employees involved in the communities they serve.
One such community organization is located in the heart of one of our branch areas; The ALMS House, a charity that serves all of Cumberland County. The ALMS House has a mission to "help families reach their sufficiency goals to make the community a better place one individual at a time through feeding the hungry, clothing the needy and providing counseling and financial assistance."
The ALMS House Thrift Store, located on West Patterson Street in Hope Mills serves as a place the community can make donations and shop for gently used items such as clothing, linens, home décor, household items and more. The building currently used is an old historical building owned by Hope Mills Presbyterian Church. Hope Mills P.C. rents the building to the ALMS House for $1.00 per year. Through much use, the entrance ramp and front porch was in much need of some fresh paint. This was when MCU's Community Outreach Coordinator, Jon Hamby began devising a plan to organize an employee volunteer day to prep and repaint the ramp and front porch of the thrift store.
On Monday, July 12th, Jon, along with five other employees, took the 130-mile drive from the main office in Winston Salem, NC to Hope Mills, NC, for a day of prepping and painting at the ALMS House. The day began with a long two-and-a-half-hour drive to the eastern part of the state where they would arrive at the ALMS House Thrift Store and be greeted by Grilley Mitchell, an ALMS House board member. They immediately went to work as each volunteer grabbed either a paintbrush or a wire brush and began scraping paint or painting. This was no easy task as the temperatures quickly rose into the lower 90's with very little shade to hide from the sun. After a couple of hours, the first coat of paint was applied, which meant it was time for lunch. When lunch was finished the employee volunteers quickly tackled the second coat of paint before embarking on the long ride home! When asked what volunteering at the ALMS House meant to her, Tonya Osborne, one of the volunteers, replied "No matter what's going on in your life, volunteering to help others will always help to brighten your day and put a smile on your face." Each volunteer was proud to represent MCU and to be the voice of the people put into action!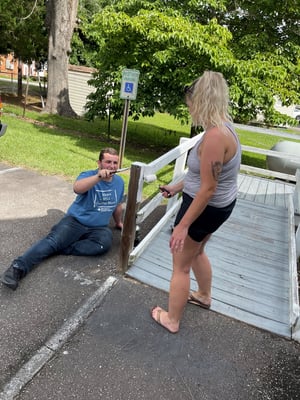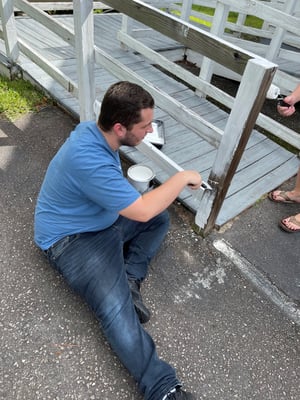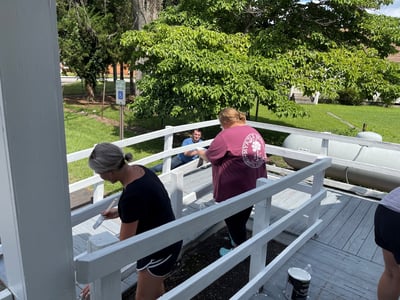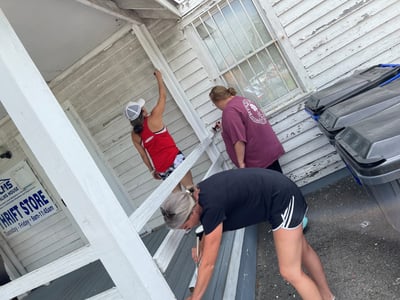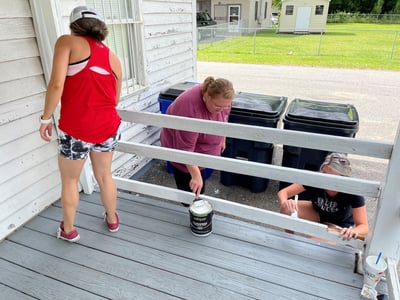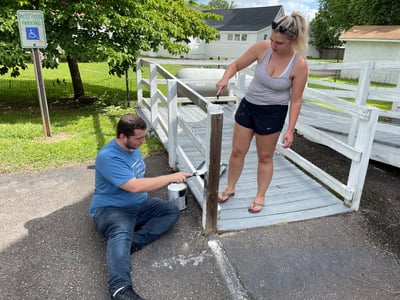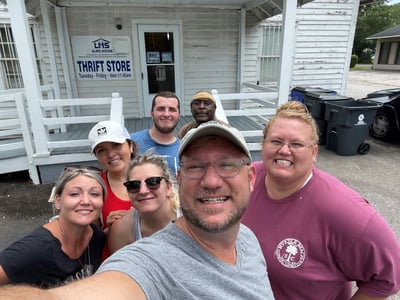 Pictured is: Jon Hamby, Tonya Osborne, Tina White, Jessica Smith,
Bessy Benavides, Matthew Harmon and Grilley Mitchell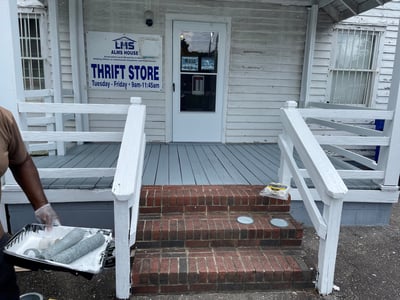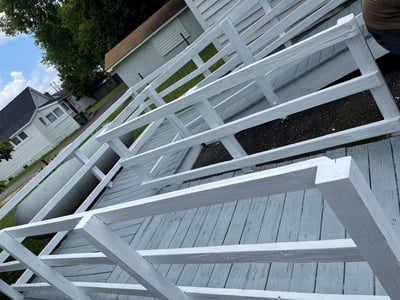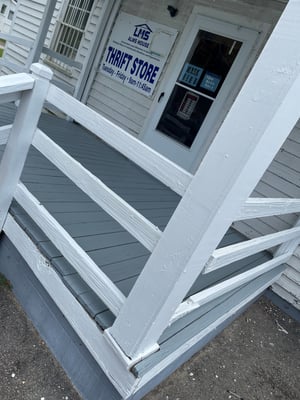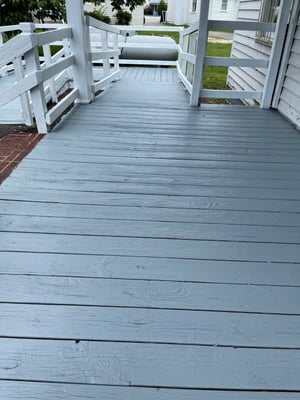 To learn more about the ALMS House visit www.almshousehopemills.com