Members CU held its annual meeting on January 25th at the central office in Winston-Salem, NC. During the meeting, Karen Keller, Jack V. Braswell, Jr; Jeff Seaford, and Ben Borugian were elected to serve three-year terms on the credit union's Board of Directors. President and CEO, Bob Donley, presented the results of 2018, reporting that $73,100 in charitable donations were distributed to organizations across North Carolina. In addition to charitable donations, $7,000 was invested back into schools through a grant program for teachers and $100,000 was added to the Members Credit Union Scholarship Fund. In 2018, the credit union opened their first student-run credit union branch at Davie High School and it is open to all students, faculty, and employees.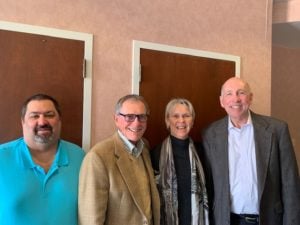 Board of Directors Elected (Pictured left to right) Ben Borugian, Jeff Seaford, and Karen Keller and Jack V. Braswell, Jr were elected to three-year terms on MCU's Board of Directors.
"The branch will increase our presence in the fast-growing Davie County area, and in the future, may lead to a free-standing full-service branch to serve all of the residents of the county," stated Donley.
In 2018, the credit union gave back to its membership by eliminating an ATM excess withdrawal fee, which returned approximately $200,000 annually back in the form of member savings. They also rewarded members by introducing a tiered savings rate model for Money Markets and Super Sixty accounts that pays higher dividend yield to accounts with a higher balance. Donley also highlighted the successful launch of our new online banking products MEMCU Online and MEMCU Mobile, and pointed out that MCU's earnings for the year were $2.68 million, stating that the credit union ended 2018 with a total capital ratio of 12.35%."This was by far the highest income level in our 65-year history. We are excited about the direction of the credit union and we will continue to build upon the success of 2018," said Donley.
The next annual shareholders meeting is tentatively scheduled for January 31st, 2020.